December 7th, 2015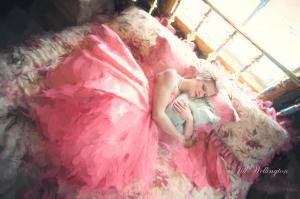 The idea for Vintage Val Bedroom Dreams came about when I found the fabulous pink dress at a thrift store. One of the thrift stores in my town has a rack of vintage clothing. I always head there first when I enter the shop. I paid seventeen dollars for the dress which is a bit pricey for thrift, but I'm willing to pay more for my Vintage Val shoots.

I was trying to think of an idea for the retro 50s pink dress. I had originally wanted to use it for a Spring photo shoot. One day, I was in my bedroom and my eyes were drawn to my floral bedspread. A light bulb went off in my head...the flowers were the same color as the vintage dress! Yes, we photographed this gallery in my own bedroom!

I always get mental visions of a photo shoot! I'm also led to certain items that are to be used in the session like the pink Malibu slippers that I just happened to find at the thrift store months before I found the dress...in the exact same color! I also bought a 1950's pink princess telephone off Ebay because I wanted one when I was a kid. The phone was perfect sitting on the bedside table. I also adore my old-fashioned tea set!

I really loved the challenge of shooting indoors with natural light. I am fortunate that my bedroom has two windows to bring in light. This remains my favorite Vintage Val photo shoot mostly because I love PINK.